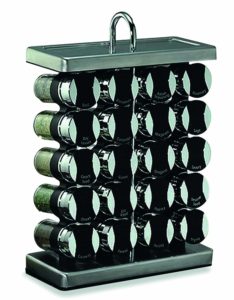 The Old Thompson Spice Rack with Spices is one of the nicest spice racks that you can buy for your kitchen, or to give it as a gift to a family or a friend. It shows beautifully on top of your kitchen counter, and it also serves as a great storage space for your spices that you can use for cooking your meals.
To make sure that your food tastes great, we often use several spices into it. Spices come in different varieties like salt, paprika, dried herbs, curry powders, allspice, and so much more! Storing spices perfectly and appropriately will make sure to prolong its shelf life, and makes sure to keep its freshness and flavor, which will surely show in your food.
Spice racks do come in several sizes and designs. But if you want to get something that will ensure freshness of your spices, and will also make a nice accent piece on your kitchen counter, you can always check out the Old Thompson  Stainless-Steel Spice Rack.
To know more about this spice rack, please see the different information we have for you below, including key features of it, and some pros and cons, based on the different reviews made by the people who have already bought it.
Features:
20 slotted rack that allows you to stack and store the spice containers in an organized manner
Rack is made of high grade stainless steel. Comes with a nice gripped handle for easy moving. Sturdy and stable base.
20 x 3 oz glass containers with their own lid.
Lids come with labels (pour, shake, scoop) for easy use.
Spices already included
These are the different key features of this Spice Rack with Spices. To know more about it, below are some of the pros and cons of it, based on consumer reviews.
Pros:
The polished and glossy stainless rack construction adds great beauty inside your kitchen.
Kitchen counter top space saver
Labeled lids gives you the convenience of using the spices easily, or according to your preference.
The glass jars are very durable
Very affordable!
Cons:
Due to constant usage, you cannot prevent the lids or even the rack to get wet. It somehow does not have a rust proof feature, which according to some reviews, is one of the complaints of people who have been using this rack for quite some time already.
The glass jars are quite slim, so cleaning the bottom part of the glass is quite a challenge. I would recommend a pipe cleaner or a bottle brush cleaner for this.
You cannot choose the spice that comes with your package.
Conclusion:
The Old Thompson Spice Rack with Spices is definitely a nice choice, if you want to add some beauty in your kitchen counter top, and of course to make your dishes succulent and delicious all the time. Spice racks from Old Thompson is actually one of the best, because they come in nice and modern design. They are also designed to make it space saving, so you will not have a hard time placing it on top of your counter.
Spice racks are very important. It is more than just a decorative item inside your kitchen, because it serves as a germ free and humid free storage for your important spices for cooking. Sure there are a lot of spice racks in the market today. But if you would like to invest on something that is beautiful, elegant, and incredibly function, you should certainly consider the Old Thompson Spice Rack to keep all of your important spices in a safe place.
By the way, this spice rack, when you order it, will already come with glass filled spices that are fresh, which you can already use for your cooking. So this is spice rack is indeed a money saver, because you do not have to spend more to get your initial stocks for spices. Nonetheless, upon ordering, you will not have the ability to choose the type of spices that comes in your package. So you will have to wait, and be surprised on what you are about to get.