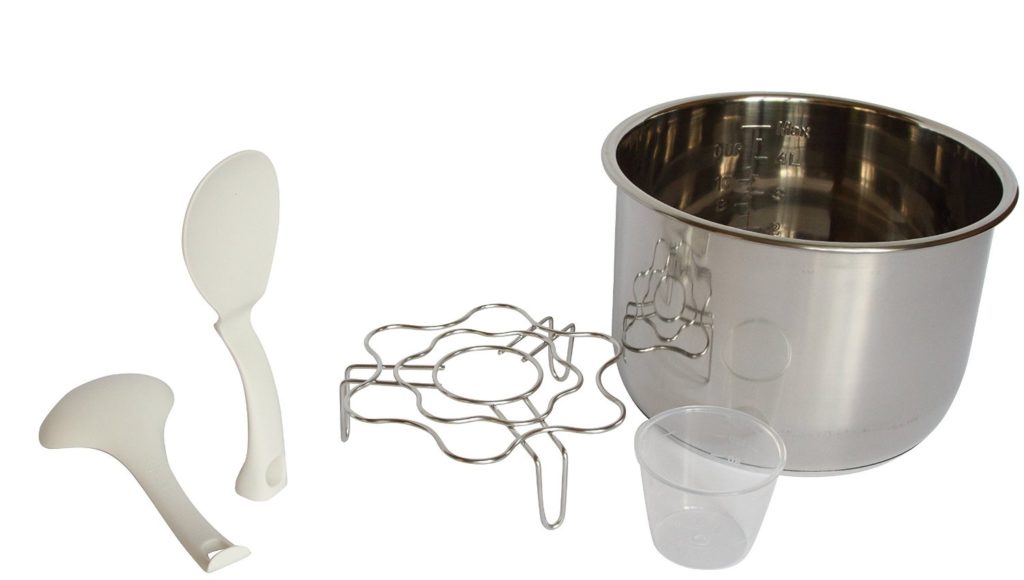 Those who are shopping for an easy to use pressure cooker that can accommodate a large amount of cooking will surely love  the Instant Pot IP-LUX60 Pressure Cooker. Actually, this kitchen tool is everything that you will ever need to achieve easy & convenient cooking, because aside from being a pressure cooker, this pot can also serve as any of the following:
Sautéing pot
Slow cooker
Rice cooker
Steamer
Warmer
So this pot is definitely one of the best kitchen tools that you can invest on, because by just looking at the different features, you know that you are getting more value to your money.
Let us continue learning more about this 6 in 1 pressure cooker more. Below are the different key features of it, as well as some pros and cons too, in order to give you a better idea of what you can expect from this pot.
Features
Fully automatic 6 in 1 pressure cooker
It is multifunctional, as it can also be a warmer or steamer, rice cooker, browning/sautéing pot, and a slow cooker
6 quart pot; large enough to feed medium to large sized families
It has an automatic keep warm feature
It comes with an easy to use 10 smart programs
Comes with a 3 temperature settings, which you can use for browning and slow cooking
Up to 24 hours delay cooking settings
Manual settings
10 safety features that makes this pot UL and ULC compliant
Incredibly energy efficient
Made of stainless steel
These are just some of the key features of the Instant Pot IP-LUX60but you can definitely expect more from it, which you will surely discover once you get to use it.
You will also get the following items in the box:
Matching rice paddle
Soup spoon
Measuring cup
Instructional manual
FREE recipes to get you started
FREE cooking time tables so you will always have perfectly cooked food all of the time.
Now that you know some of the key features of this 6 in 1 pressure cooker, let us now see what the actual users have to say about it. It is better to know what the consumers have to say, because this information will also help us determine if this pot is indeed a 'must have' inside your kitchen.
Pros
You can never find a pressure cooker that is as easy to use as this pot. It is completely automatic, programmable, plus it also has a manual setting, in case you need more time to cook your meal.
It is very easy to clean, because the pot is made of stainless steel. This gives you the convenience of using it every single day.
People who do not like using pressure cooker to cook delicate foods like soups, will surely love its slow cooking ability. It can create mouth watering soups without breaking the contents too much.
Pressure cooking will always be safe and easy when using this pot. It turns off automatically, so you can leave your house for a quick buy in the store, in case you missed on getting something, without worrying about the food that you are pressure cooking.
The food is sealed very well with this pot, so you can be sure of efficient cooking from the moment you turn on the pot, until its done. You will also never smell the food cooking inside your kitchen, because of its tight sealing feature. That way, you will not have to smell like your food, and be ready to face your guests with full confidence.
Aside from being safe to use, this 6 in 1 pressure cooker is also silent and energy efficient.
The overall quality of the pot's body is great, giving you the peace of mind that you have a durable and long lasting pot that you can use for years of cooking good food for the entire family.
Cons
Actually, there is none for the features. If there is one comment to say about this pot, it would only be the high price.
Conclusion
The Instant Pot IP-LUX60 Pressure Cooker is indeed one of the best kitchen appliance that you might want to invest on. It serves and works efficiently, and gives you the most convenient cooking time inside your kitchen.