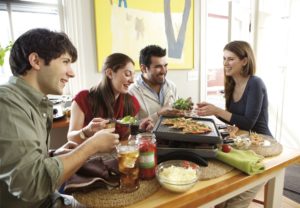 Whether you are hosting barbeque party with friends, or spending a nice Sunday lunch with the family, you will never go wrong when it comes to the Hamilton Beach 31602 Raclette 8-Person Party Grill. This 16" x 7" x 15" grill can cook delicious grilled foods enough for 8 people, or might be even more. You can use this grill both indoors and outdoors, and you can even use it on top of your dining table, to entertain guests with small pieces of meat, veggies, or even fruits for grilling.
This raclette grill would be just great to give as a gift to your family and friends, or you can also get one for yourself, so that hosting dinners to parties will never be boring again. Allow your family and friends to have a unique dining experience with the Hamilton Beach  Raclette Grill.
To know more about this party grill, please read the rest of the article below, where we are going to talk about more of its key features, pros and cons, and so much more!
Features:
Party grill that is good for 8 people
Can grill almost any type of food like small or bite sized pieces of steak, pork, or chicken. You can also grill vegetables, seafood, and fruits easily with this party grill.
It has a dedicated button in order to control the heat, to make sure that you have the right amount of heat, depending on the food that you are cooking.
8 trays for heating your food
Non-stick grill plates allow you to cook your food conveniently and easily. Not to mention, the non-stick feature allows you to clean the grill easily. It is also dishwasher safe, so clean up is definitely a breeze.
Comes with a free recipe book for faster and easy cooking
Comes with a 1 year manufacturer warranty
These are the different features of the Hamilton Beach 31602 . To know more about it, below are the different pros and cons of each, based on the different reviews of people online.
Pros:
Allows you to serve food and host parties in a unique way
Comes with a dedicated control for adjusting the heat, to make sure that your food is evenly and perfectly cooked.
Very easy to clean, since the grill plates are non-stick and dishwasher safe.
It has a nice and perfectly modern design
Best for interactive dinners with friends and family
Comes with a free recipe book, so you can already get started with your grilling as soon as you get it out of the box.
Great price!
Cons:
The space in between the grill on top and the trays below is quite shallow, so you cannot heat food that is high or stacked on top of each other.
The non-stick coating can flake off easily, especially when set on really high heat for a long time.
Conclusion:
The 31602 Raclette  Grill is indeed a great addition to your kitchen. With this, you will never have problems on how to wow your guests during parties or dinner times. You can amaze them with a unique way of serving food, where they can get to choose their preferred meat or veggie for grilling, depending on what they like on their plate.
The non stick surface is also a great deal, since you will not have a hard time cooking the toughest to cook food, including fish, beef, or even eggs. It comes with an adjustable heat control, so you will not have a problem achieving the right heat, depending on the food that you are cooking.
The nice thing about this Raclette Grill too, is that you will not have a hard time cleaning it. This is very important, especially when it comes to busy people, who do not have all the time to spend inside the kitchen, to scrape off sticky food on grills. The parts of the raclette are also dishwasher safe, so all you have to do, is to pop them in your dishwasher, and let it do the cleaning job for you.