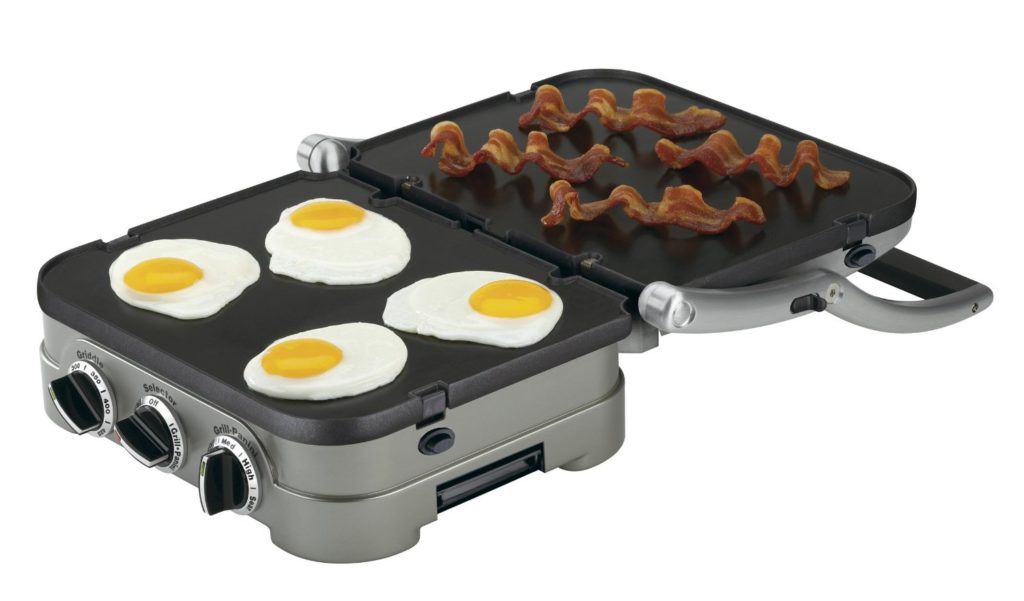 A contemporary kitchen must have a versatile griddler. Griddlers are excellent in making different meals that can be prepared for any meal or snack.
When choosing a high quality griddler, you need to find one that is completely versatile, adaptable, and most of all completely reliable in making tasty and also flawlessly cooked dishes for you, yot family and at times your friends that drop in.
If you are searching for a quality, versatile griddler, you must consider the Cuisinart GR-4N 5-in-1 Griddler.
In this review we look at the features, pros and cons, and provide relevant information to help you come to an informed decision in purchasing this griddler.
Features:
Being the ultimate kitchen appliance the Cuisinart GR-4N 5-in-1 Griddler provides five separate cooking functions:
Contact Grill
Full Grill
Full Griddle
Panini Press
Half Grill/Half Griddle
The appliance has removable and reversible that are dishwasher safe and nonstick. The grill side is perfect for steaks, burgers, chickent and vegetavles, and the griddle side is just right for pancakes, eggs, bacon and searing foods.
The Contact Grill function can be used to cook burgers, boneless pieces of meat, thin cuts of meat and vegetables. The Griddler is designed with a unique handle and hinge that enables the cover to adjust to the thickness of the food being cooked.  It is important that all pieces of food being cooked on the grill are of a consistent thickness.
When used as a Panini Press the Griddler can used for grilling sandwiches, breads and quesadillas for example. The grill side of the plates give a the pattern to the toasting however the griddle side could also be used.
When used as a Full Grill same foods as those mentioned for the Contact Grill can be prepared but will have to be turned. The Griddle is opened flat the food can be cooked on both sides of the Griddler.
Similar when used as a Full Griddle the appliance is fully open with the plates reversed to the griddle sides. This doubles the cooking space used for the Panini Press but foods will need to be turned.
When used as Half Grill/Griddle, the appliance is fully open with a grill side up on one plate and grddle palte up on the other. Perfect for cooking eggs on the griddle and bacon on the grill.
This appliance for the kitchen delivers value for money.
Additional features include:
Has its own drip tray, so you can easily remove grease and oil easily after use
Non stick trays that are dishwasher safe
Reversible plates
Constructed with a stainless steel body
Fully adjustable heat
LED indicator
Includes separate plates that are dishwasher safe
Comes with a scraper
Comes with a FREE healthy and delicious gourmet recipes that you and your family will surely love.
Offered with a 3 yr limited warranty
After use you can expect to find more features of the Cuisinart GR-4N. 
Following we list some of the pros and cons that we have ascertained from user reviews.
Pros:
Perfect for home recipes and home use
Produces even and perfectly cooked meals all the time, since the heat is even and well distributed.
Unlike other grills or griddlers, this particular model of griddler is dishwasher safe, so you will not have a hard time cleaning it after use.
The plates are non-stick, so you will never have issues grilling almost any type of food, even the most difficult ones that can easily stick to the pan when heated.
The griddler comes with several plates that you can remove and replace. All plates are also dishwasher safe, giving you the ability to cook multiple meals easily and without any hassles.
It serves as a 5 in 1 tool, as stated in the features, giving you the ability to save a lot of kitchen equipment.
The grill can be used half, or full (when fully open), so you can double the amount of food that you can cook in one go. When using it halfway only, you can use the other half as a top grill, which is perfect for grilled cheese sandwiches, meat. Fish, and so much more!
Cons:
The only complaint most people have with the 5-in-1 Griddler is its safety feature that shuts the unit down once it has reached a prolonged high heat. When the griddler cools down after about 3 minutes at the minimum), it will turn on again, and heat up the plate to recommence cooking. This feature prolongs the cooking time, which is quite annoying at times.

Conclusion:
Overall, the Cuisinart GR-4N  is still the best choice of many. This is because of its multiple functions that will really allow you to have a fun time cooking different meals inside your kitchen. The heat is also fully adjustable, so you will never have issues getting your desired heat, depending on the food that you want to cook.
Also, one reason why many people love this kitchen tool is because it is very handy to use. It is non-stick, so you will never have problems scraping out the food that you are cooking, plus, clean up is s breeze, since you can just pop it inside the dishwasher, once you are done using the griddle.