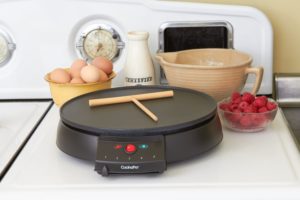 Crepes are very tasty and satisfying treats that you can serve during breakfast or in between main meals. You can also enjoy making them, because the options for toppings or fillings are endless. Crepes are not very hard to make, especially when you use a nice crepe maker, like the CucinaPro Crepe Maker.
Features:
Light indicator to tell you when the pan is ready
Dedicated ON/Off switch
The package includes a dipping plate and a matching spatula that you can use to spread the batter on the hot plate.
Cord has protective covering for easy storing
Free recipes
Comes with a 1 year manufacturer's warranty
Measures about 15 inches in length and 7.5 inches in width
Pros:
Very easy to use with no complicated and intimidating buttons.
The light indicator gives you the exact time when you can spread your batter, in order to create the perfectly cooked crepes. No guessing anymore!
The non-stick surface allows you to make thin crepes without any risk when flipping it out.
The package already includes everything you need, like a dipper, a spatula, and of course the delicious and fun recipes that you can try, in case you are done with the ones that you already know.
Very easy to clean
Very affordable
Comes with a 1 year warranty, which you can use to back you up, in case the crepe maker gets busted along the way.
Cons:
So far, there are not too much negative comments for the CucinaPro Crepe Maker. Many find it as a great tool to make perfect crepes all the time, even if it is your first time. If there is any, it would probably be the size only, because some people would prefer larger crepe makers with bigger diameters to make huge crepes.

Summary:
Overall, the CucinaPro Crepe Maker proves to be one of the most in demand crepe makers in the market. It is very easy to use, and tells you the right time, when you already need to place your batter on the pan. The led indicator eliminates the need for guessing, which is the usual reason why making crepes can often be a disaster.
Another nice thing to mention about this particular crepe maker is that it already includes everything that you need, to get you started with your crepe cooking. It already has a dipper and a matching spatula that you can use safely on your crepe maker, to make sure that the protective non stick coating will not be damaged.
Lastly, this crepe maker is very affordable. For less than $50, you can already enjoy crepes every day, without the hassle of making them, which we often get, when using regular pans or omelet pans.